Cold Creek Conservation Area CCCA has a long history of operation, management and use by a variety of stakeholders and community groups. The site is owned by the Toronto and Region Conservation Authority (TRCA) and was originally opened as the Cold Creek Conservation Field Centre in 1968. The property was used for various recreational opportunities including, school field trips, use of the rifle range and trap range, archery, dog training, dog sled trails, hiking and cross country skiing. In 1990 the site closed to the general public due to financial constraints.
In 2002, the TRCA initiated the development of a Management Plan for the property. 
Upon completion of the Management Plan, the Cold Creek Stewardship was created in 2003. The Stewardship became advocates for the site, running various nature related events, establishing and maintaining hiking trails and maintaining the public use areas. They contributed to the sites growth, development and success under their watchful eye. Without their contributions, the site would not be what it is today. 
In 2006, under a 99 year lease with TRCA, the Township of King reopened CCCA for public use and has been responsible for the operations and management of the property since that time.The property is currently used for educational and recreational opportunities by school groups and for day use by community groups and the public who enjoy the trails, open spaces, picnic shelter and facility rentals offered on site. 
Time Line Dates
Image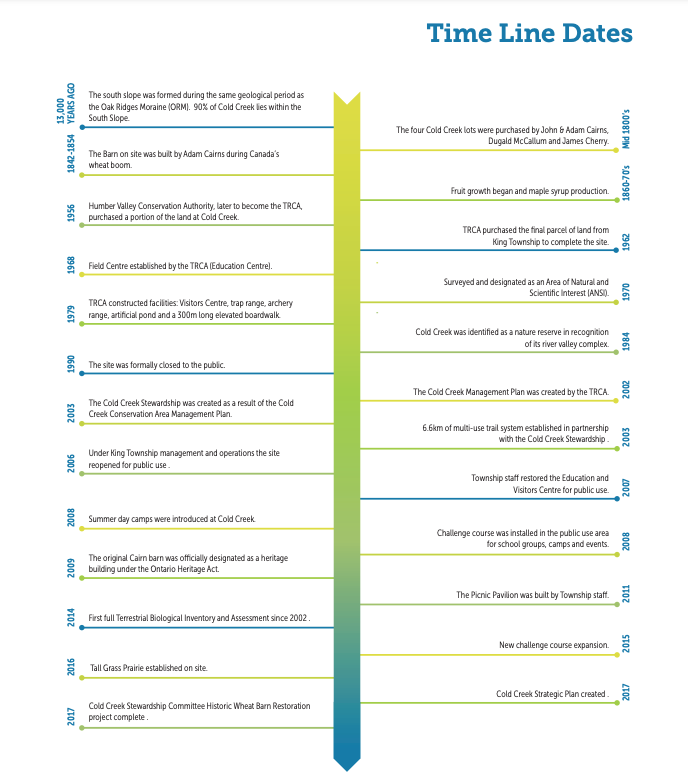 Cold Creek User Profiles
Then
1989
In 1989, the most frequent user of Cold Creek Conservation Area could be characterized in the following manner: An Ontario male, originating in or near Toronto, between the ages of 18 to 54 (92.4%) which are listed below:
Most
Hunting
Fishing
Shooting
Camping
Walking
Hiking
Archery
Swimming
Picnicking
Canoeing
Bicycling
Cross Country Skiing
Horseback Riding
Downhill Skiing
Ice fishing
Now
2021
In 2016, the most frequent user of Cold Creek Conservation Area could be characterized in the following manner: An Ontario student, originating in or near York Region, between the ages of 10 to 14 which are listed below:
Most
High Ropes
Rock Climbing
Archery
Team Building
Mountain Biking
Nature Based Educational Programs
Hiking
Cross Country Skiing
Snowshoeing
Skating on the Pond
The English Wheat Barn 
The Barn at Cold Creek is located in the middle of Cold Creek Conservation Area and was built by Adam Cairns, the original settler of the property, between 1842-1854 during Canada's wheat boom. the barn was officially designated a heritage building under the Ontario Heritage Act in 2009. A plaque has been installed in front of the barn on a large bolder to highlight the designation.
Image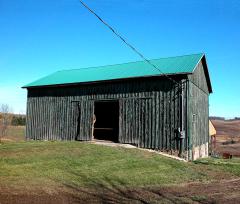 Before restoration
Image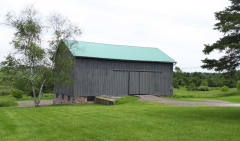 After restoration